Pregnancy Help 4 U offers pregnancy and reproductive health services and education to women and men, including pregnancy testing, sonograms, STD testing and treatment, and parenting classes. The clinic, located in Keller, TX, had 3,379 client visits in 2022, and over 27,000 since its inception in 2011.
Often, women are unprepared for pregnancy due to inadequate support or health concerns. At PH4U, we offer peace of mind by providing medical consultations and by verifying pregnancy with a registered nurse. Our education program focuses on labor and delivery, infant care, parenting basics, and more. The STD program promotes reproductive health by testing and treating the top two common sexually transmitted diseases, and by educating clients on avoiding exposure to infection. Throughout all of our programs, we seek to equip men and women to make healthy choices and empower them to create a parenting plan that benefits parents and their babies.
All of our services are free, confidential, and non-judgmental to women and men of all ages, race, and income level. We also provide material assistance (such as diapers, wipes, and formula), pre- and post-pregnancy counseling, proof of pregnancy for Medicaid, doctor referrals, adoption and maternity home referrals, and other community resources.
Pregnancy Help 4 U is accredited by the Evangelical Council for Financial Accountability (ECFA).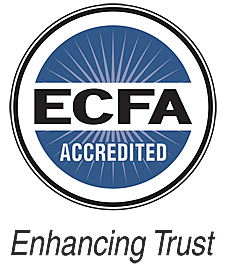 Our Mission
Pregnancy Help 4 U Mission: Walking with families in crisis pregnancy, without judging them, to provide caring, life-affirming solutions, along with resources to succeed while sharing the love of Christ.
Our Needs
We are continually growing and improving aspects of our medical program. We currently need sonogram supplies, pregnancy test kits, and resources so our medical team can serve clients with excellence. Our center is often the first place new parents are able to see their baby's heartbeat on the ultrasound screen, which helps confirm the viability of a pregnancy. This is a vital part of what we do, and we are ever-striving to offer the highest quality assistance we can. We currently need sonogram supplies and resources so our medical team can serve clients with excellence.
The women and families we serve have ongoing needs as new parents. You can help by donating these materials items as well as making monetary donations to the center. We appreciate your help in building stronger communities -- starting with families.
Gift Cards (Walmart, Target, Kroger, Gas)
Diapers (size newborn to 6)
Wipes
New Baby Items (Clothes, bottles, infant care)
New Car Seats
Our Equity Statement
PH4U never discriminates in providing services to clients because of age, gender, race, color, sex, income, national origin, political beliefs, religion, disability or other arbitrary circumstances.